HPC (Heterophoric Plate Count) culture mediums such as YEA, PCA or R2A, frequently used for environmental bacteria counting, detect less than 1% of the total flora (WHO, 2003). Indeed, a large proportion of bacteria cannot multiply on those mediums. For example, there are:
Anaerobic organisms (tolerant or obligate): oxygen presence slows down or inhibits their growth.
Bacteria requiring a specific temperature to grow such as psychrophile (low temperature) or thermophile (high temperature).
Germs requiring a specific environment such as acidophiles (high acidic conditions) or halophiles (high salinity).
Germs requiring specific elements such as rare amino acids, complex sugars, vitamins, cations…
Non-culturable bacteria whose culture is impossible using traditional methods.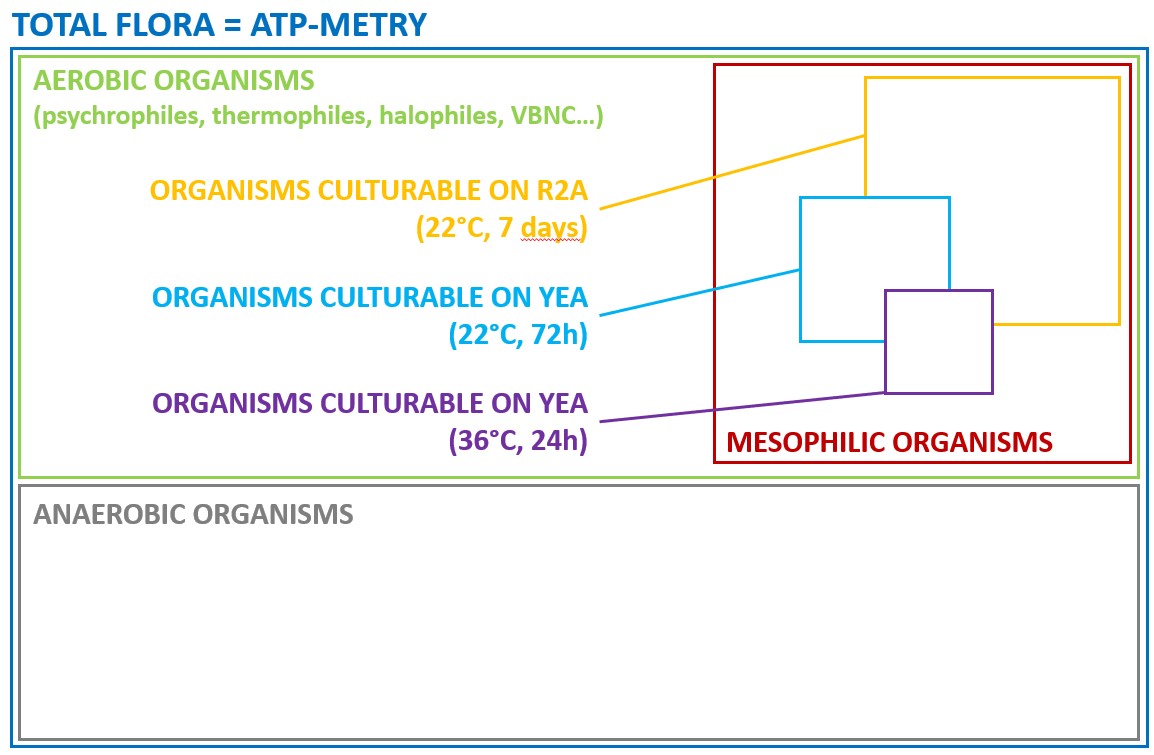 Diagram of total bacterial flora
VBNC bacteria (viable but non-culturable) which have momentarily lost their growing capacities as a response to stress. The use of biocides, physical treatments (ex: UV) or the environmental parameter modifications (temperature, pH…) can cause that change of state.
Furthermore, the bacteria needs to form a colony to be detected by the technicians' eye. Which means growing from one to several billions within the allocated time period. That implies a short lag phase and a fast growth. Those parameters partly depend on the incubating temperature and the type of medium used.
In the end, we only detect aerobic mesophilic flora able to grow between 20°C (68°F) and 45°C (113°F) in the given time and for which the nutrients are adequate.
Why you should not speak of "total flora" with culture method?
Each culture medium will only detect a part of the bacteria depending on chosen conditions.
Thus, to be thorough, we should speak of "culturable flora" indicating the medium, temperature and incubation time chosen.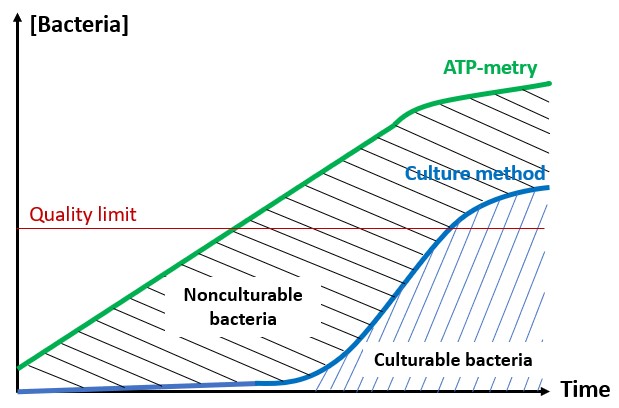 Example of bacterial growth monitored by culture and ATP-metry
As for ATP testing, it detects the whole living bacterial flora, even non culturable bacteria. For all these reasons, it is often observed an increase of total flora by ATP testing long before the appearance of the first colonies on the culture medium.
ATP-metry is an early indicator of microbiological contamination.